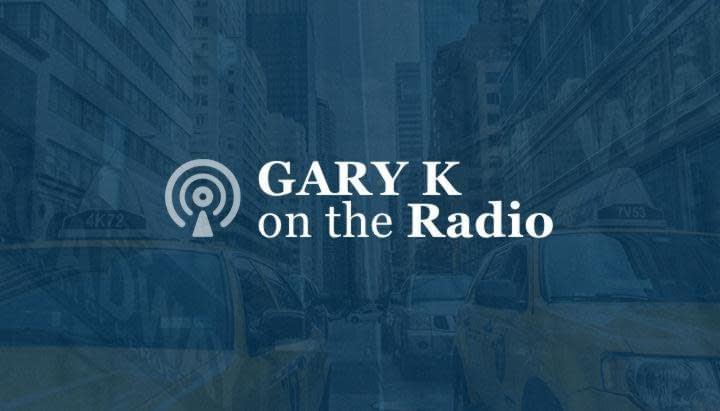 [email_link]

http://archives.warpradio.com/btr/InvestorsEdge/073118.mp3
JUST LETTING YOU KNOW
They're Working on the Market
Everybody waited with bated breath about what the Fed was going to do. And they basically said that economic growth has slowed down. We had no idea. And they said blah, blah, blah and this, that and the other thing.
And they said they would look at things and then act accordingly.
And what do they mean by "act accordingly" ladies and gentlemen?
Answer: They print money to buy bonds in order keep bringing interest rates down. They say that they're trying to help the economy. But I know better. They're working on the market.
They know they can't help the economy. They're already at zero percent interest rates. Listen to this. The yield on the 10-year is 1.53. That is tied to a lot of loans, specifically in mortgages. That means that mortgage rates have come down markedly. Loan rates have come down markedly. And it still hasn't worked.
So they're working on the market. And in an accident of truth, Bernanke in the past had mentioned that if we get the market up, we'll get people feeling wealthy – and they may spend.
So that's the story. You can go read what the Fed said.
I must tell you that I don't watch financial television because I don't want to hear other peoples' opinions. But I turned it on and you know what they were talking about? The Fed's language.
Ooh…they said "this" instead of "the."
The said "it's" instead of "it is."
Must mean something.
I have not seen more juvenile, more imbecilic thought processes in my life.
Ladies and gentlemen, the Fed is printing money. Has been printing money. And will continue to print money, regardless of what they tell you. Ad infinitum. Or until the market stops them. That's it. Don't believe anything else. Right now, they're in this "Operation Twist." And I'm not even going to get into what it is.
The market really didn't react that much. That makes me happy.
I hear that tomorrow, there is some kind of meeting or announcement from the European Central Bank (ECB) at 8:30 am. So we'll get an idea from that.
And then, of course, on Friday is the Fake Jobs Number. To be blunt, they will fake the number as much as they can into the election – if they can.
ADP numbers yesterday were better than expected so maybe the number will be better. I heard that expectation was on the measly creation of 80,000 jobs. Just remember what I think: It's all a bunch of B.S.
As I've told you on my radio show, they have taken millions of people, in the past few years, out of the workforce, which makes the unemployment rate come down. If you add them back in, it would be much higher. And, of course, I have asked, "Give me the list of people."
There's no list. They make it up. I'm not kidding you. They make these all-important numbers up.
The Market…Playing It Close to the Vest
Frankly, there really wasn't a lot of range in the market today. The big loser of the day were the Transports which were down 101. That has to be watched closely. Conway (CNW) was the culprit, down 5 or 6 and change. If you look at the Transports, you will see that it's been range bound for the better part of 9 or 10 months. The upper range happened from January into May. The lower range from May into July. And now we're back into that lower range again…and you do not want to see the Transports break down ladies and gentlemen. That would not be good news at all.
The SOX was flat.
Oils stocks had some strength today.
After that…a lot of red. Housing…red. Gold…red. A bunch of growth stocks…red.
And a lot of other things…mixed.
They ain't going to be easy. I'm playing it close to the vest.
LISTEN TO GARY LIVE ON WEEKDAYS 6-7 PM ON A STATION NEAR YOU AND AT GARYK.COM
6-7 pm EST
Best of Investor's Edge
Saturdays 1-2 am EST
Gary Kaltbaum owns Kaltbaum Capital Management, LLC ("KCM"), an investment adviser registered with the U.S. Securities and Exchange Commission. The opinions expressed herein are those of Mr. Kaltbaum and may not reflect those of KCM. The information offered in this publication is general information that does not take into account the individual circumstances, financial situation or individual needs of an investor. The information herein has been obtained from sources believed to be reliable, but we cannot assure its accuracy or completeness. Neither the information nor any opinion expressed constitutes a solicitation for the purchase or sale of any security. Any reference to past performance is not to be implied or construed as a guarantee of future results.
Podcast: Play in new window | Download
http://garykaltbaum.com/wp-content/uploads/2015/10/1_Gary-K-on-the-Radio.jpg
411
720
aaronmat-admin
http://garykaltbaum.com/wp-content/uploads/2015/12/gary-k-logo7-390px.png
aaronmat-admin
2012-08-01 19:20:07
2012-08-01 19:20:07
08/01/2012: GARY ON NATIONALLY SYNDICATED INVESTORS EDGE RADIO BROADCAST