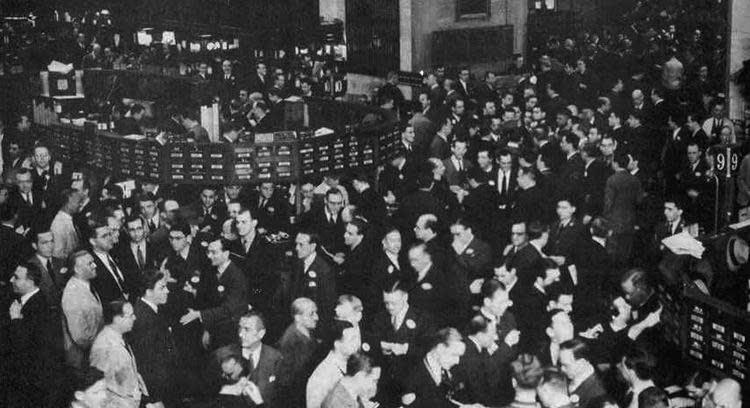 In case you did not know, many moons ago there was something called the Nifty Fifty. It kind of, sort of, got lost in the shuffle as to why it was called the Nifty Fifty. Many people have this idea that at the end of some big bull market everything was sold off except for approximately fifty stocks. They kept going up while the market went down, and then they finally cracked and that was the end of the market. But, that is really not the case. What happened was, I think it was the late sixties or early seventies, there were just 50 consistent growth type names that would just consistently move higher and higher and they were named the Nifty Fifty. If I recall right, American Home Products was in there and the drug companies and Walmart was in there. I think Walmart was the best gainer, but the words Nifty Fifty ended up with this thought process as being very negative. That is where I want to bring them up.
Again, we are not here to predict anything in the markets. We don't know what we are eating for dinner tonight. We gave out recently a list of leading stocks and they are starting to emerge pretty well here, even though the market has been pretty crappy here, except for Friday. I will explain that to you here in a minute. I am going to use the term Nifty Fiftyish, in that here is what we have to be watching out for right now. So, listen carefully. We have had another minor league correction. The Russell 2000 dropped 10% and other indices have dropped 5%. Now, for sure, many other stocks have dropped a lot more than that. But, I also have discussed with you how fewer and fewer stocks are working, leading the market to be narrower and narrower. All I just want to let you know is that continues. On Friday the market found the low. Today, the Dow was only up 16 but the market was much better. I am just letting you know that when I do my scans, there are so many fewer stocks participating than three weeks ago, six weeks ago, ten weeks ago, sixteen weeks ago, six months ago, or nine months ago. Typically, eventually ever narrowing markets will lead into a bigger correction of consequence. That is what we want to let you know. That is about it. We are rallying up and every time we rally up it is narrower.
We don't know at what point, if ever, we are going to crack into some real bearish market. We are just letting you know, it remains narrower and narrower by my estimates. So, the worst areas have been Europe. The German DAX has been literally crushed. That found some relative strength on Friday and had a big day yesterday following what we did Friday. But, I am letting you know we are going to give you out the leading stocks, best areas to avoid. Just letting you know that fewer and fewer and narrower and narrower and this must be watched. Because if we ever go into a real bearish phase, and remember the last time they stopped printing money we dropped 22%. The time before that we dropped 17% and that is on most indices. If we are ever going to do that again, this is how it happens. Now we have discussed for months now all of these characteristics, I don't even need that right now. I am more interested in price action now and again the Dow held the 200 day moving average, one of the worst areas. The Russell 2000 finally starting to rally some, but very weak. The Nasdaq 100 only got down to the 50 day-moving-average and held pretty well and remember, it is just 100 names. This is narrower. We just wanted to give you a little bit of definition, letting you know what we are watching. I think all that happened over the last couple of days is that markets don't go straight down and it was getting a little icky. Now, the job right now is very simple, to ferret out whether we can have a meaningful rally, a sustainable rally and not a bounce and a trash. My guess is that we are not going to break last week's lows right now and we will reevaluate on a day-to-day basis. While I said to you that the market is much better than the Dow only up 16 today, there were some flaws today still. But, I do want you to know that when the Dow is up 16 but advance/declines on the New York are 22 to 8 and on the Nasdaq 19 to 7, that is good news. I am hoping to see much more of that. Now we are through earnings' season, there are a bunch more earnings to come out but really the crux of the important names are out. We are going to get a bunch of important retailers soon, some energy stocks too, but the big Kahunas are mostly done.
http://garykaltbaum.com/wp-content/uploads/2014/08/nifty-fifties.jpg
408
750
aaronmat-admin
http://garykaltbaum.com/wp-content/uploads/2015/12/gary-k-logo7-390px.png
aaronmat-admin
2014-08-12 13:58:34
2014-08-12 13:58:34
GARY TALKS NIFTY FIFTY ON RADIO!